Stair lifts are widely adopted as solutions for those of us who have difficulty getting up and down the stairs. They are called many different names such as stair chairs or stairway lifts, but they all refer to the same product, the stairlift. Most stair lift buyers are simply the elderly among us who need to conserve their energy, and make life a little more comfortable. Our stair lifts have been manufactured specifically for ease of installation. A typical homeowner can perform a self installation in less than three hours using common tools.
For those with economy in mind we offer a selection of used and reconditioned stair lifts. Electric as well as battery models are available as well as heavy duty and outdoor units. There are many variations of stairway configurations often requiring unique solutions. We promise to make your stairlift buying process as easy as possible, so call our Stair Lift Specialist at 1-800-910-0954 for a custom solution and guaranteed lowest prices.
-
Harmar Summit AC Straight Stair Lift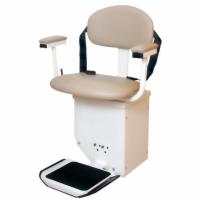 The Summit Stair Lift is engineered with a carriage that is pre-installed on a short section of the durable extruded aluminum track. The backrest has three different settings, and the fold-up footrest adjusts to two different heights for the utmost in custom comfort. The spacious, wide seat features thick padding and attractive upholstery.
Harmar Helix Curved Stair Lift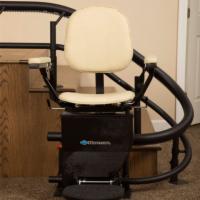 The Helix is built to last. Every staircase that is fitted with a Helix is measured with a calibrated camera kit for digital accuracy. Constructed with highly durable steel, custom precision-bent rails, and finished by experienced craftsmen, this true curved rail is highly engineered to give you an extraordinarily smooth ride.
Perfect for a stairway with a 90° turn, 180°, or even a spiral staircase. The Helix can even be built to accommodate multi-story applications.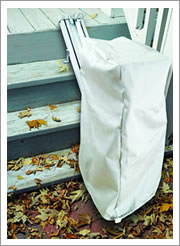 Based on the design for the standard AmeriGlide AC Stair Lift, the AmeriGlide Outdoor includes three weatherproof covers that will protect your lift from wind, rain, snow, ice, and other inclement weather. The AmeriGlide Outdoor meets all the same ASME safety standards as its other counterparts and can support up to 300 pounds of weight. The AmeriGlide Outdoor stair lift operates on any outdoor outlet that is equipped with ground fault interruption (GFI) circuit protection.